Roskow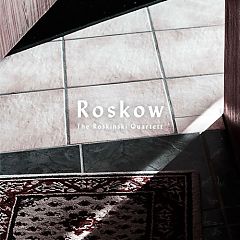 Vinyl/Digital
Release: March 15th 2013
Label: Riptide Recordings
Distribution: Cargo Records
Buy Vinyl at Pleasure Syndicate
or digital at iTunes, …
Trackist:
01 Baby Baby
02 The Better Land
03 Tell Me
04 Smolder
05 Place My Hands
Credits:
Vocals, guitar and violin by Anna Roskinski
Guitar and additional vocals by Philipp Schwartz
Bass and additional vocals by André Tietje
Drums and percussion by Jan Frederik Vogt
Synthesizer and glockenspiel by Erik Engel
All songs written and produced by The Roskinski Quartett
Lyrics by Anna Roskinski
Recorded at Roskow´s former train station in June 2012 by Jan Frederik Vogt
Mixed by Jan Frederik Vogt and Philipp Schwartz in Leipzig and Hamburg 2012
Mastered by Bo Kondren at Calyx in Berlin 2013
Photographs and artwork by Atelier Disko Hamburg 2013
© & ℗ Riptide Recordings 2013
Lyrics:
Baby Baby
Black-eyed daughter
Oh, my dear
Turn affection into fear
I´ve become your mothers heart
Heard it pumping from the start
What? Your mother was a freak?
Never even saw your needs?
What you learned, you learned it fast
Working harder than the rest
Baby, baby – what went wrong?
Can´t you save me, I´m alone
And when you return, my friend
A never ending story´s end
The Better Land
What else is there?
Coming from the ocean from afar
Embrace your land
We´re coming for to see the better land
We´re coming from the ocean
To see the better land
Coming for the white and gentle sand
What else is there?
I´m over board, I´m over board
Turning back, I´m turning back on board
Tell Me
Tell me what I´m for
Write it on my door
You have come so far, alone
I´ve become my own
Smolder
That empty chair
Made of trust, made of scare
Will always remind me of the words
That you say
Once in a while
When you sit there and light
Up a cigarette
Smolder covers all my doubts
Alone with all these words
That you say once in a while
When you come and sit there and light
Up your cigarette
Smolder covers all my doubts and I
Lean back on that shoulder
Place My Hands
I place my hands
Upon the woods so old
They tell me tales
That I´ve been never told
And though the land is dark
I leave this town
And as I disappear
The first snow falls
And as I walk alone
I feel the ground
Will change with every step
Into the cold
I place my head
Upon the solid ground
And listen to the tales
Of common folks
And though the land is dark
I leave this town
And as I touch your hand
The first snow falls